Looking for some easy ways to keep your dog busy and entertained while stuck at home?
Keeping your dog entertained can be a challenge. And trying to come up with new ways to keep your dog entertained can be more exhausting than actually getting up and doing it. To help you out I've put together a list of simple ways to have more fun with your dog around the home
1. Teach your dog some new tricks
There are so many YouTube training video's or Google articles out there showing you how to teach your dog some new tricks. They are free to watch and will give you so many good ideas.
Whenever you're doing any sort of puppy or dog training, make sure you: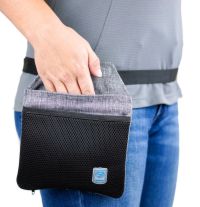 Try teaching tricks that are appropriate for your buddy's age and physical/mental abilty levels,
Use rewards treats, which you can put in one of our cool treat pouches,
Do the training when they're hungry and alert, never when they are tired,
Keep the session short,
Keep it simple,
Make it fun and
Always end on a positive note
2. Build a play area in the back yard
Dogs love to be outside and they love to sniff and dig. Why not build a sand pit in your garden and fill it with good clean sand for them to play in. We have made our Sasha a sand pit in a garden bed alongside our ourdoor patio area, it is in a shady spot and she spends hours there watching the world go by or plays silly digging games with us.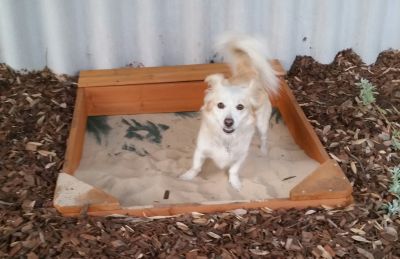 To construct a dog sand pit
Find a position in your garden that is in a shady area and your dog can see you in the house. It is ok to put the sandpit in a garden bed or on pavers.
Construct or buy a frame to contain the sand in one area. You can use a child's sand pit and burry in the ground. You can also make the edge out of timber or bricks.
Line the sandpit with a weed free mat, plastic or tarp to stop the white sand mixing with dirty sand and stop weeds coming through
Use white beach sand or white sand from your local garden supplier.
Teach your dog that this is the place they dig and chill.